Presentation on Agency Partnership towards an Innovative Water Project
---
---
On December 8, 2021, Adel Hagekhalil, the General Manager of the Metropolitan Water District of Southern California, and Robert Ferrante, the General Manager of the Los Angeles County Sanitation Districts, gave a presentation on the importance of our agencies' partnership on the Regional Recycled Water Program (RRWP): an innovative effort that could provide a new source of water for 1.5 million people.
Click here to watch the presentation and the subsequent question and answer period. Click here for more information about the RRWP.
After a wide-ranging search, we have found a new Executive Director for our organization. We have chosen Ilyse Shapiro, MBA, CMP to lead The Academy going forward. Her experience, credentials, and energy are a great match for what The Academy needs in order to meet the challenges that lie ahead.
Welcome aboard, Ilyse!
2021 AAEES Excellence in Environmental Engineering and Science Virtual Awards Ceremony and Conference
Thank you for attending our 2021 AAEES Awards. We hope that you enjoyed celebrating "Excellence in Environmental Engineering and Science" with us. Thank you to Isreal Hodges for his incredible job as our Master of Ceremonies. Thank you to Dr. Andrew Sanderson for his timely message, "A Call to Service". Thank you to Dave Bolderoff for presenting LACSD's Superior Achievement Award Winning Project, "Sustainable Green Fleet: Clean Fuel for LA Today."
And a special thank you to Marisa Waterman who coordinated our 2021 virtual event.
A recording of this event is available for those who were unable to join us live or wish to revisit this amazing event. Click here to access a recording of our 2021 AAEES Awards. Click here to download the accompanying pdf.
Plans are already underway for the 2022 AAEES Awards Luncheon and Conference.
The 2022 AAEES Webinar Series begins January 26, 2022.
Dr. Colleen C. Naughton, Assistant Professor, Civil and Environmental Engineering at University of California MERCED, will be presenting COVIDPoops19 and Beyond: Origin, Evolution, and Impact. For details and to register today, go to https://netforum.avectra.com/eWeb/DynamicPage.aspx?Site=AAEES&WebCode=EventDetail&evt_key=45114dfc-08ab-4612-b319-7a87d72122f1 or click the below image.
Did you miss one of our webinars? Be sure to check out our The AAEES Video Library at https://www.aaees.org/resourcecenter/webinarvideos.php.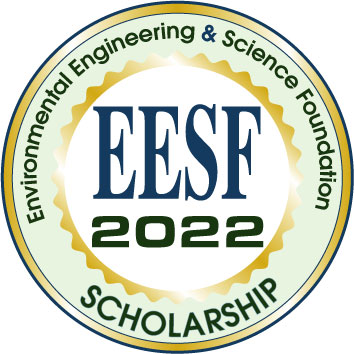 EESF is seeking your support for the EESF Scholarship Fund Campaign. Your donation will be vital to achieving our goal of funding scholarships at a level of $2,500 per student per year. Donations in excess of this are sought to provide future funding.
Read the latest Highpoints now.
Items include: Happy Holidays; 2022 Excellence in Environmental Engineering and Science Awards Competition; Nominations Sought for Prestigious Award; Have You Visited the AAEES Center?; Annual Certification Renewal; Webinar Video Library; The Environmental Engineering and Science Foundation Scholarship Fund; Upcoming Events - and more!
For the latest news from AAEES, click here to read the latest issue of AAEES Highpoints.
The AAEES Student Chapter at Ohio University recently held an event that gave them a chance to showcase the value The Academy can bring to environmental engineering and science students. We sent shirts, pens and brochures to support their efforts and the event was a great success. Sarah Maracz, a fifth-year civil engineering student shared her enthusiasm of our program with new students.